Emerald is Bold-As-A-Bear for Bowie!!
BOWIE INDUSTRIES®
Manufacturing Durable and Economical Landscaping Equipment for Over 30 Years.
Bowie Offers More!
More features than a Finn!
More power than a Finn!
More options than a Finn!
More economy than a Finn!
Bowie Industries offers a complete line of professional hydro-seeders and straw blowers. Bowie Hydro-Mulchers® are designed for long-lasting, economical production. Here are some of the "power" features built into every Bowie Hydro-Mulcher -
Sturdy, Rugged Construction
Larger Power Plants
Long Machine Life
Faster Loading/Unloading Rates
Greater Daily Production Capacities

Gear or Centrifugal Pumps
Positive Displacement Pumps superior for sprigging
Superior Anti-Clog Engineering
Patented Mulch Shredder Bar
With Bowie, you get more for le$$ !
Durability, Simplicity of Operation, Economy, the Highest Loading Rates, and the Longest Working Life are the standards for all Bowie equipment.

Bowie Hydro-Mulchers® Click a model below for more details.
| | |
| --- | --- |
| | CAT® financing available on any Bowie equipment built with a CAT power plant! |
Click here to view the Bowie Warranty.
Bowie Aero-Mulchers® Click a model below for more details.
Click here to view the Bowie Warranty.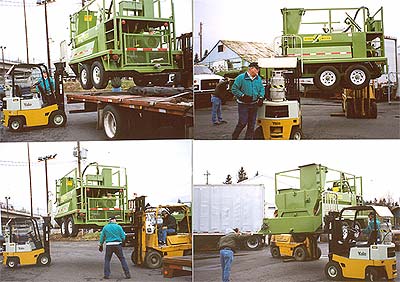 At Emerald - we move hydro mulchers!
Equipment Inquiry
Looking to buy a new hydro-seeder or straw mulcher? Have questions about our used equipment inventory? Fill out our electronic inquiry form or call us at 1-800-826-8873!


* All payments listed are 60-month term with $1.00 buyout option at lease end.
Leases and Equipment Finance Agreements are available.
Take it to the max!
Hydro-seeders and Hydro Mulchers are extremely versatile. We encourage owners of these specialized machines to take full advantage of all they're capable of performing!
seeding
topdress mulching
hydro fertilizing
fire control
equipment washing
watering trees/new plantings

street washing
de-icing
water truck services
anything a water truck can do these can do better !
Find out how you can own and take full advantage of one of the hardest working, most efficient machines in the world! Call Emerald Equipment - Home of the Hydro'Pros!