Bowie 400 Hydro-Mulcher
This entry-level unit is economical, versatile and powerful with an easy-entry price! Call Emerald for pricing and more details at (541) 504-0307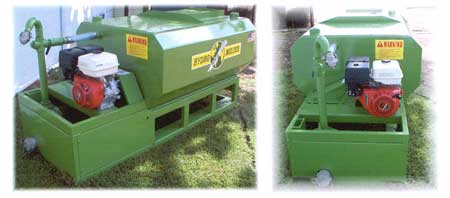 Engine: Honda 13HP Air Cooled
Pump: 2300 Standard Bowie Pump
Drive: Gates® Industrial Belt and Diamond® Chain throughout.
Capacity: 400 gallons
Empty weight 1200 lbs.
Dimensions are 92"l x 48"w x 44"h
Two versatile spraying nozzles
15' of 1" clear braided hose with remote valve.
75' of 1/12" collapsible hose
Bypass recirculation system
Bowie Offers More!
More features than a Finn!
More power than a Finn!
More options than a Finn!
More economy than a Finn!
The newest addition of Bowie Hydro-Mulching equipment to provide the simple solution to those smaller seeding and hydro-mulching jobs.
This is the Bowie 400. Even though it is the smallest of Bowie Hydro-Mulching equipment, it still has the same "built strong...built to last" features of Bowie's larger Hydro-Mulching Equipment.
Click here to view the Bowie Warranty.
Bowie Hydro-Mulchers® Click a model below for more details.
| | |
| --- | --- |
| | CAT® financing available on any Bowie equipment built with a CAT power plant! |
Equipment Inquiry
Looking to buy a new hydro-seeder or straw mulcher? Have questions about our used equipment inventory? Fill out our electronic inquiry form or call us at (541) 504-0307


* All payments listed are 60-month term with $1.00 buyout option at lease end.
Leases and Equipment Finance Agreements are available.
Take it to the max!
Hydro-seeders and Hydro Mulchers are extremely versatile. We encourage owners of these specialized machines to take full advantage of all they're capable of performing!
seeding
topdress mulching
hydro fertilizing
fire control
equipment washing
watering trees/new plantings

street washing
de-icing
water truck services
anything a water truck can do these can do better !
Find out how you can own and take full advantage of one of the hardest working, most efficient machines in the world! Call Emerald Equipment - Home of the Hydro'Pros!