---
Fire Protection and Fire Control Equipment
EMERALD HYDRO-TANKS©
"The Blaze-Busters!"
Get the Hydro-Power of Emerald Hydro-Tanks. Our largest tanks hold up to 3,000 gallons of water or polymer gels to spray-cover 1 acre of surface area in mere minutes! Hydro-Tanks are capable of shooting through 100 to 1,000 feet of hose with high pressure at the end nozzle. A powerful tool for wildfire mop-up or fire tending operations.


Use Emerald Hydro-Tanks to spray-coat landscapes or buildings with water or water-enhancing polymer gels to protect against fire or extinguish fire embers. Even property owners can purchase our units either for spraying pre-fire superabsorbent gels or use them as 'portable ponds' to keep lots of water on hand ready to spray.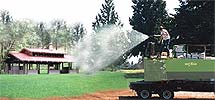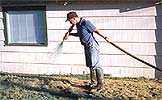 Emerald Hydro-Tanks come in various models and sizes ranging from 300 up to 3000 gallons. You can skid mount our 1200 to 300 gallon Hydro-Tanks or you can order them trailer mounted for easy towing.
Bust the blazes out of your fire with -
Emerald HYDRO-TANKS - The Blaze-Busters!


HYDRO-TANK ADVANTAGES
Fire use: Emerald Hydro-Tanks are not mere water tanks or hydro mulchers - they are powerful mixing and spraying tanks that can be mounted on your vehicle or trailer and provide water or polymer gel applications with considerable power, speed and coverage capabilities. Mix a water-absorbing polymer (superabsorbent) with your water and coat buildings or landscapes that are in a wildfire's path to help prevent ignition from fire embers as well as extinguish fire embers (superabsorbent gels or polymers can provide up to 1 hour+ of moisture retention). Hydro-Tanks are powerful tools for fire-fighters in dousing hot- spots, wildfire tending and mop-up.
Cannon Output: the 3400, 1700 and 1200 Hydro-Tanks are the real "top-guns" capable of up to 750 gpm at 115 psi (depending on choice of nozzle). Most of our models are designed with a tank-top mounted cannon that can shoot from 180 to 300 feet with a 360 degree radius allowing you to keep your distance from the fire and keep your crewman on the rig.
Hose Output: Our largest Hydro-Tanks can spray through 1000 ft. of hose ! Our Hydro-Tanks are similar to fire engine tanks but have the unique ability to mix materials ( i.e. dry or liquid fire fighting gels) in their tanks with their powerful paddle or jet agitators.
Our cannons keep your men on the rig and on the move !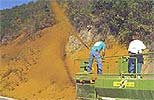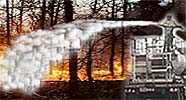 Top Guns In Action !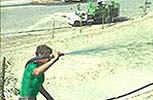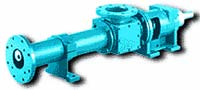 Options: The larger Hydro-Tanks can be fitted with a Moyno Pump to pump slurry through 1,000 feet or more of hose uphill! It's a great advantage for areas with restricted vehicle access or narrow driveways. Ask about the many other options that are available for Hydro-Tanks to add power to your performance.
Other uses: Hydro-Tanks are very versatile. Between fires these Hydro-Tanks can be used for polymer spray-coating ditches and canals, hydraulic seeding, hydro-fertilization, water hauling, watering, spray washing, or they've even been used as rain-makers for special effects in filming or summertime fun for kids.

Economy: our Hydro-Tanks are competitively priced. Contact Emerald for pricing.
Trailer mounted units shown. Skid mounts are also available for each model.
Paddle Agitation Series
BOWIE 3400/1700, 1250, 950, 700, 600
---
Jet Agitation Series
KINCAID Turbo Gator 500, 300
Hydro-Tanks of 1200 gallons or smaller are available trailer mounted or skid.
Hydro-Tanks at 1500, 2000, or 3000 are available as skid only.
Skid mount Hydro-Tanks onto your truck or trailer.
If you are visiting our website after-hours, use this link to ask your question or request pricing by e-mail. Leave your number and we'd be happy to call you back in the morning!
Equipment Inquiry
Looking to buy a new hydro-seeder or straw mulcher? Have questions about our used equipment inventory? Fill out our electronic inquiry form or call us at 1-800-826-8873!


* All payments listed are 60-month term with $1.00 buyout option at lease end.
Leases and Equipment Finance Agreements are available.
Whether your concern is wildfire, fire control, forest fire, fire fighting, or wildland urban interface and you're looking for fire fighting equipment such as a water truck or supplies such as superabsorbents, polyacrylamide or fire blocking gel – Emerald's can help with fire suppression, fire prevention, and mop-up with our Hydro-Tanks. They are not a water truck, they're more! Take our largest tanks to the fire line and shoot water or water-enchancing gels through the canon or 1,000 feet of hose. Looking for parts such as fire hose, centrifugal pumps, hose reels, nozzles? Then give Emerald a call and add the mixing and spraying power of an Emerald Hydro-Tank to your wildland fire arsenal.
Take it to the max!
Hydro-seeders and Hydro Mulchers are extremely versatile. We encourage owners of these specialized machines to take full advantage of all they're capable of performing!
seeding
topdress mulching
hydro fertilizing
fire control
equipment washing
watering trees/new plantings

street washing
de-icing
water truck services
anything a water truck can do these can do better !
Find out how you can own and take full advantage of one of the hardest working, most efficient machines in the world! Call Emerald Equipment - Home of the Hydro'Pros!