Tips for hydro-seeder Maintenance
Courtesy of Emerald Equipment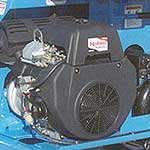 Motor Oil
Emerald highly recommends using synthetic oil or synthetic blends in your hydro-seeders and straw mulchers to reduce frequency of oil changes and to eliminate the negative attributes of petroleum based oil. Synthetics don't break down, they just get dirty. Just change the filters regularly & top off oil as needed. Most motors run cooler & more efficiently on synthetic oil.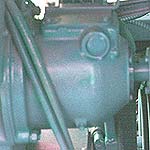 Clutches
Keep clutches adjusted on your seeders and make sure your clutches snap into engagement. If you have a bungee cord keeping it engaged then you are way over due for an adjustment and possibly on the way to clutch failure. I saw a lot of clutch replacement action this spring and several were fairly new machines that did not get adjusted when needed.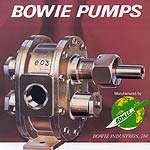 Pumps
Like clutches, pumps benefit from an occasional inspection and adjustment. Whether you have a centrifugal or progressive cavity (screw or gear) pump sooner or later you need to adjust them to keep your suction/pressure up. Often the pressure drops on pumps gradually over period of time so operators are unaware of what they have lost. Gear pumps are easy to adjust and can usually be rebuilt at least once before having to be replaced. A rebuilt pump can bring new life to an older machine. Centrifugal pumps are more expensive to repair and replace but generally benefit from an occasional adjustment or seal replacement. Review your equipment manual for instructions on clutch and pump adjustment.
If you own a Bowie Hydro Mulcher or a Kincaid Agigator and do not have an Owners Manual, contact us and we can provide you with one.

Hoses/Nozzles
Don't forget to inspect your hoses and nozzles and have replacements ready. Emerald stocks both hoses and nozzles and even some that probably did not come with your machine - nozzles that will cover just about any slurry application from the hose or tower.
---
Winterizing a hydro-seeder


Check List compliments of: EMERALD EQUIPMENT

Click below for a PDF version

ess_winterizing.pdf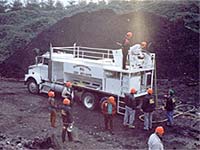 CHECKLIST
A. Engine
Change oil and oil filter.
Change fuel filter.
Service air filter.
Tune gas engine.
Clean and flush radiator and thermostat.
Inspect fan belt.
Inspect and adjust clutch.
Clean and check battery and store inside.
B. Pump
Check impeller wear plate tolerance-- adjust or replace.
Inspect casing for wear.
Replace seal if leaking.
Drain water from pump casing, then pour in a quart of oil and spin to prevent rust.
Remove lubricator cup and fittings, clean and repack with a soft soda based grease.
C. Tank
Exterior can be cleaned of lime and fertilizer by spraying on fuel oil or vinegar and washing off several days later. Touch up with paint.
Interior should be cleaned and spot painted.
Inspect all tank bearings and seals. Replace if necessary.
D. Piping
Inspect all rubber seals and gaskets.
Inspect all piping clamps and coupler.
Remove and disassemble valve, clean grease grooves and the large plug in the bottom of the valve and repack.
Flush all hoses, reels and piping.
E. Drive Components
Check all chains, sprockets, belts, and pulleys for wear and proper tension.
Check shaft couplers for wear.
Check gear boxes for proper lubrication.
F. Hydraulic System
Drain reservoir, clean suction screen, change filter and refill with specified oil.
Inspect all hydraulic hoses for leaks, cracks and deterioration.
Inspect all valves, cylinders and fittings for leaks.
G. Grease Fittings
Lubricate with hand gun only.
H. Trailer
Inspect tires.
Pack wheel bearings.
Inspect hitch, hitch bolts and safety chains.
I. Miscellaneous
Check all guards and safety decals. Replace if necessary.
Restock tool kit with any missing items.
Restock spare parts bin.
Inspect the overall machine for structural wear and damage. Tighten loose fasteners.
Winterization Tips Specifically for Bowie Hydro Mulchers:
Clean entire machine before storage.
Clean inside of tank and drain.
Centrifugal pumps : remove drain plug in bottom of pump
Bowie Gear Pump : grease each fitting with 15 pumps of grease and turn pump slowly a few revolutions.
Leave all ball and gate valves open halfway.
Add Sta-Bil fuel stabilizer to fuel tank and run engine for 15 minutes.
Water cooled engines be sure radiator has proper anti-freeze.
Remove and store battery indoors.
Spray WD-40 on Formsprag Clutches.
Grease all fittings, spray Chemsearch Lubrease or equivalent on all roller chains.
Check List compliments of:
EMERALD EQUIPMENT
We encourage our web visitors to print out this form for their own company use.
We do not give copyright permission for any company to copy or publish this elsewhere.
Need advise on hydro-seeder care and maintenance?
Call our expert and hydroseeding vet "Arman"
# (541) 504-0307 Portland, Oregon
Copyright 2005 Emerald Seed & Supply / Emerald Equipment