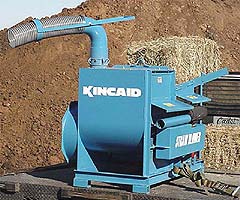 KINCAID KTSM1
Tailgate Straw Mulcher
Blow through your straw mulching with a new Kincaid KTSM1 Straw Mulcher from Emerald Equipment!
The Kincaid Tailgate Straw Mulcher comes with a 360-Degree rotational cannon discharge and can be operated by one person. It is available skid or trailer mounted. Expect to blow straw at a distance of 40 feet and up to 1 1/2 acres per hour, or 2 to 3 bales per minute. This straw mulcher comes standard with a belt-driven fan to eliminate vibration. There are eight flail beater chains that separate the straw fibers. The 18 HP KOHLER electric start engine is standard. This Tailgate Straw Mulcher can blow straw and hay, wet or dry with reduced clogging and down-time, producing faster and better results. With the Kincaid Tailgate Straw Mulcher you can experience high quality performance and results. Eliminate the clumping and long hours of hand-spreading straw and experience the speed of a Kincaid Tailgate Straw Mulcher!
"Own Your Own!"
One day rental can pay for one month's lease on a new straw mulcher!
$ Don't throw your money away on rent, invest it ! $
Authorized Kincaid Dealer:
Emerald Equipment
Portland, Oregon
(541) 504-0307
Kincaid KTSM1




Tailgate Straw Mulcher

SKID
TRAILER
Weight:
700 lbs.
1240 lbs.
Length:
55"
108"
Operating Length:
81"
108"
Width:
40"
60"
Power:
18 HP Twin Cylinder Kohler Engine, electric start
Blower Fan:
16" High Velocity
Beater Chamber:
7 cu. ft.
Beater Chains:
8 Hardened
Discharge Cannon:
360-Degree Rotational, 60-Degree Vertical
Battery:
12-Volt Automotive
Fuel Tank:
6.6 Gallon
Feed Tray:
24" Wide, Folding
Capacity:
2 Bales/Minute
Discharge Distance:
40 ft.
Hose Capacity:
100 ft. Max.
Color:
blue
Options:Installed

Call for Pricing

Custom Trailer, single axle w/ ball or pintle hitch, 13" wheels, and safety rails
Honda 20 hp engine upgrade
Hour Meter
6" diameter extension hose
Click here to view the Kincaid Warranty.
Spread your straw in minutes instead of hours with a new Kincaid Tailgate Straw Mulcher from Emerald Equipment!

At left, Arman inspects a new Kincaid KTSM1 prior to delivery.
Kincaid Straw Crimper
The Kincaid Straw Crimper is an effective and affordable unit for contractors who are required to crimp their straw into place. It is a great unit to use along with a Kincaid Tailgate Straw Mulcher.
| | |
| --- | --- |
| Hitch: | Category I-3 Point |
| Weight: | 400 |
| Width: | 7 ft. |
| Blade Size: | 1/8" x 16" |
| Coulter Blades: | 12 Hardened Steel with notch design |
| Axle: | 2 1"x 40" Square Steel Shafts with Nut & Washer |
| Axle Bearing: | 4 Greasable Agricultural type bushings |
| Color: | Blue |
Equipment Inquiry
Looking to buy a new hydro-seeder or straw mulcher? Have questions about our used equipment inventory? Fill out our electronic inquiry form or call us at 1-800-826-8873!


* All payments listed are 60-month term with $1.00 buyout option at lease end.
Leases and Equipment Finance Agreements are available.
Kincaid equipment is made in USA with USA steel.
Support USA manufacturing and USA products – buy Kincaid!