Bowie 700 Hydro-Mulcher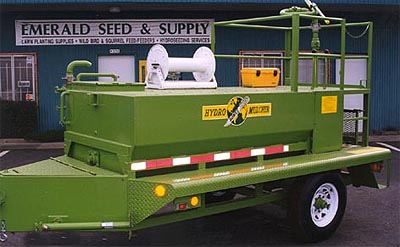 | | |
| --- | --- |
| Skid Model | Trailer Model |
NO CDL REQUIRED!
The Bowie 700 loaded and towed with a one ton truck will not require a CDL!
US Dept of Transportation Federal Motor Carrier Safety Administration
Commercial Motor Vehicle Safety Act of 1986
Class A license is required when any combination of vehicles with a GVWR of 26,001 or more pounds provided the GVWR of the vehicle(s) being towed is in excess of 10,000
Engine: Robin 25 hp. Air Cooled
Pump: Bowie 2300 rotary gear
Drive: Gates® Industrial Belt and Diamond® Chain throughout.
Clutches: 2 Form-Sprague, roto-cam
Axle: 7000 lb. Tor-flex
Hitch: 2 5/16" Ball or Pintle Eye
Tongue: Enclosed for storage
Length: 15'- 3", Width: 6'-4", Height: 7'-3 1/2"
Empty Weight: Skid 2270 lbs.; Trailered 2620 lbs.
Loaded Weight: Skid 7500 lbs.; Trailered 8100 lbs.
Tank: 700 gallon, 3/16" Steel plate tank, catalyzed epoxy resin coating on inside of tank and agitator to prevent rusting and corrosion. Large opening in top for easy cleaning and maintenance, all shafts supported on self-aligning ball bearings and steel roller chain drives throughout
Frame: Mounted on single axle trailer with 750x16 tires, Electrical brakes, Running lights, Adjustable front dolly and Adjustable ball type trailer hitch.
Bowie Offers More!
More features than a Finn!
More power than a Finn!
More options than a Finn!
More economy than a Finn!
Options for Bowie Lancer Series
Freshwater Flush System, Bypass Recirculation, Extra Nozzles on Cam Lock Fittings, Remote Spray Brass Full Flow Ball Valve with Cam Lock Fittings, 150' Lay Flat Hose, Manual Crank Hose Storage Reel, Hydrant Fill Kit and Hose Adapters.
NOTE: All units priced F.O.B. factory or current location. Freight not included.
Click here to view the Bowie Warranty.
Bowie Hydro-Mulchers® Click a model below for more details.
| | |
| --- | --- |
| | CAT® financing available on any Bowie equipment built with a CAT power plant! |
Equipment Inquiry
Looking to buy a new hydro-seeder or straw mulcher? Have questions about our used equipment inventory? Fill out our electronic inquiry form or call us at 1-800-826-8873!


* All payments listed are 60-month term with $1.00 buyout option at lease end.
Leases and Equipment Finance Agreements are available.
Take it to the max!
Hydro-seeders and Hydro Mulchers are extremely versatile. We encourage owners of these specialized machines to take full advantage of all they're capable of performing!
seeding
topdress mulching
hydro fertilizing
fire control
equipment washing
watering trees/new plantings

street washing
de-icing
water truck services
anything a water truck can do these can do better !
Find out how you can own and take full advantage of one of the hardest working, most efficient machines in the world! Call Emerald Equipment - Home of the Hydro'Pros!