---
EPA requirements for all solid waste facilities :
The sanitary landfill shall not cause any air contaminant to be emitted in violation of N.J.A.C.7:27-5.2(a). Malodorous emissions shall be controlled by the use of daily cover. In the event that this is not satisfactory, a suitable deodorant shall be used.
Control Landfill Odor with
OC1050 Landfill Odor Control Liquid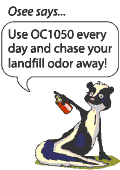 OC1050 is perfect for additional odor control at landfills using hydro mulching to apply an alternative daily cover mulch. Emerald offers OC1050, a specially formulated odor control liquid which reacts with the odor and moves upward through the landfill surface. This concentrated liquid is designed to be mixed in a hydro mulcher with water or with an alternative daily cover mulch slurry to create an odor controlling crust. The frequency of application depends on the intensity of the odor problem at each individual landfill. It can be used daily.
When a landfill is utilizing an Alternative Daily Cover mulch it is an excellent opportunity to dispense OC1050 odor control each time daily cover mulch is applied. This effectively covers the entire active working surface with an odor controlling crust. Whether used with water or with mulch slurry, the OC1050 method is less than a penny per square foot. And OC1050 is not a masking agent, it is a true odor eliminator which chemically reacts with the odor-causing compounds associated with landfills.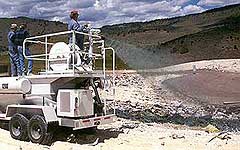 For best results : OC1050 is primarily designed to be distributed through a hydro mulch application when mixed with water and mulch material.
Suggested application rate: Apply OC1050 at 1 quart per 6,000 sq. ft. or higher depending on intensity and frequency of the odor problem.
OC1050
Guaranteed Analysis
Proprietary blend of Dimenthylopsiloxene polyalkylene 20%
Proprietary blend of essential oils 80%
Availalble in 1 gallon, 5 gallon bucket and 55 gallon drums.