America's first & only Off-Road designed Mulcher!
The Kincaid 1200LF Off-Road Mulcher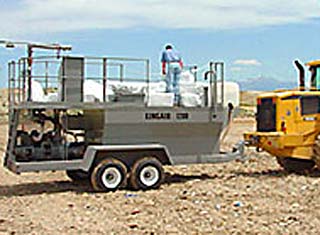 Kincaid has designed the Pro Series 1200LF Off-Road Mulcher as a powerful hydro-seeder or hydromulcher, uniquely designed for off-road use on landfills, mining sites, military bases or quarries. If you need an off-road hydro-seeder or hydromulcher, the KINCAID 1200LF can provide you with the following unique features designed specifically for off-road uses:
22" ground clearance
Flotation tires
Heavy-duty tongue
Pintle hitch
Direct pond filling
Buy a KINCAID 1200LF and get a specially designed, powerful, heavy duty mulcher that is as versatile as a hydromulcher or hydro-seeder can be! The only Off-Road designed mulcher of its kind in the world!
Consider a KINCAID 1200LF Off-Road Mulcher - a specially designed, powerful, heavy-duty, off-road mulcher for hydromulching or hydroseeding that is as versatile as a mulcher can be!
Click here to view a PowerPoint Presentation on the Kincaid 1200LF Off-Road Mulcher.
Kincaid 1200LF Specifications

36HP Yanmar diesel engine
Positive displacement pump
Hydraulic agitator with variable speed and reverse
1150 gallon working capacity
High 22" ground clearance
1200-16.5 Flotation tires
4" valve for tank closure
2" bypass for pressure control
2" tower for discharge gun
Capable of direct pond filling
Baked-on coating of 5 mil. thickness

Options

Optional live hose reel
Foam-fill for tires
DOT brakes and lights
Optional 140 gallon flush tank
Pintle, ball or gooseneck available
Powered by
Yanmar Diesel Engine

KINCAID Off-Road Mulchers for where the road ends and the work begins!
Kincaid Equipment has been manufacturing specialized seeding equipment for over 30 years. Our equipment is painted with a 5 mil thickness paint. Each machine has a one year parts and service warranty. Kincaid has a fully staffed and stocked parts department ready to be of service.
| | |
| --- | --- |
| | All KINCAID Seeder-Mulchers use Positive Displacement Pumps for maximum pumping power and performance. |
The Kincaid Pro Series 1200LF mulcher is very versatile and can be used for the following applications:
Hydroseeding applications
Bonded Fiber Matrix applications
Liquid Fertilization
Water tank for dust control
and more!
Click here to view the Kincaid Warranty.
Emerald also offers Alternative Daily Cover Mulches - click here for more information!

Request a free Kincaid Agigator video!
Authorized KINCAID dealer :
Emerald Equipment
Division of Emerald Seed & Supply
(541) 504-0307
Equipment Inquiry
Looking to buy a new hydro-seeder or straw mulcher? Have questions about our used equipment inventory? Fill out our electronic inquiry form or call us at (541) 504-0307


* All payments listed are 60-month term with $1.00 buyout option at lease end.
Leases and Equipment Finance Agreements are available.
Kincaid equipment is made in USA with USA steel.
Support USA manufacturing and USA products – buy Kincaid!
Take it to the max!
Hydro-seeders and Hydro Mulchers are extremely versatile. We encourage owners of these specialized machines to take full advantage of all they're capable of performing!
seeding
topdress mulching
hydro fertilizing
fire control
equipment washing
watering trees/new plantings

street washing
de-icing
water truck services
anything a water truck can do these can do better !
Find out how you can own and take full advantage of one of the hardest working, most efficient machines in the world! Call Emerald Equipment - Home of the Hydro'Pros!