Emerald ADC Landfill Mulch
ARE YOU BURYING DOLLARS IN THE DIRT ?
Wasting valuable space with soil cover?
Emerald's ADC Mulch alternative daily cover method changes dirt into dollars ! $$
Use spray-on mMulch as daily cover and make your air space pay you and collect tipping revenue that's lost due to using your soil as daily cover !
Old daily cover
New daily cover
Slow soil moving
man hours, fuel & labor
Quick & easy spray-on
ADC Mulch
With our ADC Mulch method your landfill can now:
Generate thousands of dollars per year by collecting tipping fees for filling that daily 6 inches of working face with solid waste.
Save thousands of dollars per year by eliminating many man hours in soil hauling and spreading.
Calculate the value of space
with Soil versus ADC Mulch method
Old Daily Cover Method -
Soil cover on 1/2 acre working face 6 inches deep using your own soil or free boiler ash.
New Daily Cover Method -
ADC Mulch used on 1/2 acre working face at 1/4" to 1/2" layer.
You lose 489 cy of space worth an average of $20 per cubic yard in tipping fees when your soil takes the place of solid waste.
Frees-up 489 cubic yards of space worth $20 per cubic yard ! You can subtract the expense of the mulch and Hydromulcher.
You lose $9,780 per day

And still generate $9,025 per day! If you use ADC only 187 days per year that is a total of $ 1,683,000 per year in added revenue!
Applying our ADC Mulch allows you to skip the soil and instead just spray on specially formulated, recycled paper, landfill mulch quickly and easily.

Emerald ADC™ Landfill Mulch

This mulch is the alternate daily landfill cover made from recycled post consumer paper and wood, polymers, enzyme complex, biological stimulants, and other proprietary ingredients. It has been approved for use as a routine Alternative Daily Cover to minimize vector breeding and animal attraction, control leachate and erosion, reduce fire hazard potential, minimize blowing litter, reduce noxious odors, and provide an overall aesthetic appearance to the landfill. It helps breakdown the garbage faster and alleviate odors. All ingredients are not-toxic and biodegradable.
| | |
| --- | --- |
| Alternative For Daily Cover | Spray on Slurries (ASTM D 6523) |
| Meets Government Regulations | Easy To Mix/Sprays Easily |
| Non Flammable | Controls Blowing Litter |
| Repels Vermin | Aesthetically Acceptable |
| Birds Don't Like to Land on it | Controls Odor and Disease Vector |
| Saving Airspace | Prolonging The Lifespan of Your Landfill |
The life of any landfill depends on the remaining permitted available airspace. Each cubic yard of dirt used for daily cover results in permanent loss of revenue on space that cannot be sold. This spray-on mulch does not consume airspace and it meets or exceeds all of the performance criteria for Alternative Daily Cover material as required by the Standard Guide for Evaluation and Selection of Alternative Daily Cover (ADC's) for Sanitary Landfills (D-6523). When mixed in a Kincaid 1200LF Landfill Mulcher machine and sprayed on as a slurry it quickly sets up to create a complete cover that meets all regulatory requirements. Emerald's ADC will and has proven to be effective as alternative daily cover in landfills across the USA.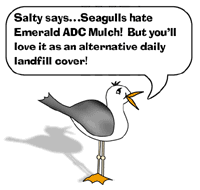 Advantages of ADC Mulch as an Alternative Daily Cover
Simple to install in all weather conditions where tarps are difficult to install in windy conditions.
Frees up landfill space for more solid waste that pays.
Requires only 1 or 2 employees to mix and apply the mulch.
It only costs about 3 cent per sq. ft. or 27 cents per sq. yard for the ADC Mulch. (at $15.00 per bag covering 500 sq. ft.)
No removal required the following morning.
Working face size is not as critical as with tarps where you have to match size and configuration of the tarps.
Employees do not have to walk over the working face to apply it.
The blue color gives a pleasing appearance and makes it easy to see coverage.
Non-toxic and safe to handle / biodegradable / non-flammable.
Made of recycled paper and wood.
Mix Ratio and Coverage Data
Mix ratio: 1 bag to 70 gallons water
Coverage (1 bag): 450 sq. ft. per bag
Application and Coverage Data
| | | | | |
| --- | --- | --- | --- | --- |
| Tank | Amount Water | Pounds of Emerald's ADC | Number of Bags | Coverage Sq. Ft. |
| 550 gal | 420 gal | 300 lbs | 6 | 2700 sq. ft. |
| 700 gal | 560 gal | 400 lbs | 8 | 3600 sq. ft. |
| 900 gal | 770 gal | 550 lbs | 11 | 4950 sq. ft. |
| 1100 gal | 910 gal | 650 lbs | 13 | 5860 sq. ft. |
| 1200 gal | 1050 gal | 750 lbs | 15 | 6750 sq. ft. |
| 1500 gal | 1330 gal | 950 lbs | 19 | 8550 sq. ft. |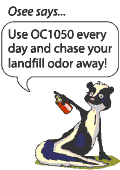 Click here for details on the new Landfill Odor Control Product OC1050.
---
EMERALD ENVIRO-CAP ADC Additive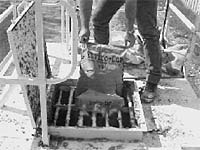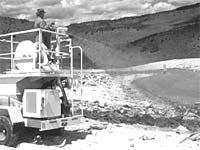 For landfills that have a local, economical source for paper mulch, Emerald offers Enviro-Cap ADC Additive for creating your own ADC mulch! Add Enviro-Cap to your paper mulch or any hydraulic mulch and meet all the EPA requirements for ADC mulch! This process, using Enviro-Cap along with any hydraulic mulch and mixing it in a 1:1 ratio in your hydro mulcher and with proper spray application, will meet all Federal specifications for alternate daily cover. Enviro-Cap® is available in 40 lb. bags and contains a blend of several ingredients including an odor control product; all the ingredients needed to form a cementious crust when added to your choice of hydraulic mulch. Any local hydraulic mulch whether it be paper, blended, or a wood mulch can be mixed with this special dry, powder form additive, making a thick oatmeal like material that can be sprayed as an alternate daily cover. Creating your own ADC mulch may provide a savings for you when you compare this additive to the purchase and shipping price of ADC Mulch. With Enviro-Cap ADC Additive, you don't have to ship in bulky ADC mulch, just use your own mulch and add Enviro-Cap!
Cap it – with Enviro-Cap!
When Enviro-Cap is mixed with your mulch it will meet the following Federal requirements:
Meets ASTM D4982-95:
Flammability Potential Screening Analysis of Waste
Meets ASTM D6523-00:
Standard Guide for Alternative Daily Cover for Sanitary Landfills:
Minimize vector breeding and animal attraction
Control leachate and erosion
Reduce fire hazard potential
Minimize blowing litter
Alleviate odors
Provide an overall aesthetic appearance
Allow accessibility regardless of weather
Application: Enviro-Cap is easy to load and mix with your mulch.
Mix one bag of Enviro-Cap with one bag of hydraulic mulch to 100 gallons of water in your hydro mulcher. This combination of materials covers 900 square feet and the loading and discharge of this slurry takes less than one hour. Enviro-Cap is "user-friendly" and "earth-friendly," it's biodegradable and non-toxic.
Please call or email us for pricing on Enviro-Cap.
---
The Kincaid 1200LF Landfill Mulcher can cover 8,000 s.f. of area in one load and apply it in mere minutes. The Kincaid 1200LF can also be used for other landfill operations: Hydro Seeding / Watering for newly seeded areas / Fire fighting / Dust Control / Washing equipment.
Apply our Emerald's ADC Mulch with our
Kincaid 1200LF Landfill Mulcher and change dirt into dollars! $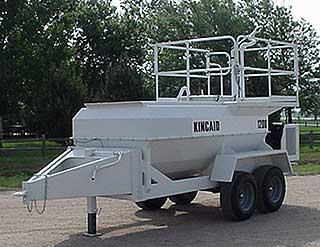 Click here to learn more about our specially designed off-road mulcher the Kincaid 1200LF.
To learn more contact Emerald for a free copy our ADC Catalog.