Bowie Aero-Mulchers
Bowie
Straw
Mulcher
Model

MG30 (Click for more info)

IDB-70 (Click for more info)

LDB-90 (Click for more info)
Capacity (tons per hr. Straw/Hay)
5 tons
7 tons
17 tons
Range (ft. still air)
40
70
90
Engine
Robin Subaru
Caterpillar 3024NA
J. Deere 4045T
Power (hp. @ rpm.)
25HP
50BHP
106/2500
Beater Chamber CF
11
Discharge Gun Travel (degrees horiz./vert)
360/65
Blower (dia/#blades/cfm.)
23.5/6
30/6/11500
Empty Weight (lbs.)
760
2800
5670
| | |
| --- | --- |
| | CAT® financing available on any Bowie equipment built with a CAT power plant! |
Bowie Straw Crimpers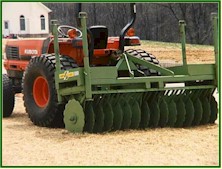 The Bowie Crimp-Disc anchors straw and hay mulch into the soil. The vertical standing mulch fibers, in rows 6 inches apart, form a fence that will protect the other mulch fibers from wind. Each vertical standing straw is available to carry moisture into the soil to aid in seed germination. This mulch anchoring method replaces asphalt emulsion and other adhesives at a fraction of the cost and in high wind areas, it is more effective.
Features and Specifications
Working Width: 8'-0" with transport wheel mounted behind crimp disc, allowing next fence crimping and legal highway transport width.
Coulter Blade Spacing: 6" coulter blade spacing. Anchors 23% more mulch into the soil than competitive models.
Trailer Weight: 2350 lbs. 3 Point Weight: 850 lbs.
Click here to view the Bowie Warranty.
Equipment Inquiry
Looking to buy a new hydro-seeder or straw mulcher? Have questions about our used equipment inventory? Fill out our electronic inquiry form or call us at 1-800-826-8873!