Pam HT® Hydroseeding Tackifier

PAM HT® is our acrylamide copolymer (poly acrylamide) tackifier that gives coverage, convenience and economy in one. As a synthetic element it can persist longer in the environment than organic based tackifiers. Compare its price and coverage to the organic based tackifiers on the market. It is highly concentrated, 3 lbs. will cover one acre. It is available in 3 lb. plastic bottles or 55 lb. bags.

Government Buyers and Specifiers Please Note:

Clean Water Act – Priority Pollutants (PP): This product does not contain any priority pollutants listed under the U.S. Clean Water Act Section 307 (2)(1) Priority Pollutant Lit (40 CFR 401.15).

Uses for PAM HT:
Hydroseeding tackifier - add to slurry at a rate of 3 lbs./ acre, or more if on sloping ground.
Straw tackifier - add to hydro mulching slurry at 3 to 6 lbs. /acre in conjunction with 500 lbs. of hydroseeding mulch and 1,000 gallons of water. In high wind areas the straw mulch should be crimped before applying the straw tacking agent.
Dust Control agent - add to spray tank or hydroseeding tank according to specifications or site condition.
Directions for use: Add PAM HT to the hydroseeding mixing tank after all the other materials have been added, shake PAM HT to disburse evenly, do not add it too fast. Then agitate thoroughly. Read and follow directions and precautions carefully before using this product.

Precautions: Wash with soap and water after contact. Eye contact will cause irritation. Keep of out reach of children.

Storage: Stable when stored below 110° in cool, dry conditions.

Spill Clean Up: Do not use water to clean up or it will result in slippery conditions. If conditions are wet, sprinkle salt on PAMHT then collect granular material and dispose of it in a garbage receptacle.

No warranty expressed or implied.

| | | |
| --- | --- | --- |
| Tackifier | Application rate | Cost |
| PAM HT03 | 1 acre/ 3 lb. bottle | $30 per 3 lb. bottle, plus shipping |
| | | $100 for 3 lb. bottle in 4 pack box, plus shipping |
| PAM HT55 | 18 acre/ 55 lb. bag | $385 per 55 lb. bag, plus shipping |

NOTE: coverage is based on 3 lb. per acre on flat work. Steeper slopes may require heavier application. 1 ounce covers 1,000 sq. ft.
Prices are F.O.B. Emerald Seed & Supply, Portland, OR.
We can ship PAMHT via UPS with an additional shipping and handling charge.
---
STA-WET™ Super Absorbent & Tackifier
Sta-Wet is unique! It's a super-absorbent, tackifier and lubricant in one!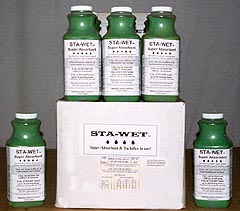 Sta-Wet is a bio-based polymer. A starch co-polymer/potassium acrylate.
Sta-Wet was created by Dr. George Fanta of the USDA many years ago and today is used in many common products as a superabsorbent.
Superabsorbent use:
Landscapers can use Sta-Wet as a superabsorbent and till Sta-Wet into soil for preparing a seed bed.
Tackifier use:
hydro-seeders use it as a tackifier and moisture retention agent to help hold and protect seed. One pound of Sta-Wet applied to soil should retain moisture 4 to 6 hours depending on weather and soil conditions.
Lubricant use:
Sta-Wet also acts as lubricant in hydroseeding slurries which is particularly helpful when handling paper mulches in smaller jet agitation hydro-seeders.
Manufacturer's suggested application rates for summertime lawn or erosion control applications with temporary irrigation
Level Ground
1 lb. per 1,000 sq. ft.
Slopes < 3:1
40 to 80 lbs. per acre
Sta-Wet
Cost
Sta-Wet02
$11.95 per 2 lb. bottle or
$40.00 per 4 bottle pack
Sta-Wet25
$100 per 25 lb. box
Help your seed stay wet with Sta-Wet Super Absorbent!