950 Gallon
Working Capacity!
Bowie 950 Hydro-Mulcher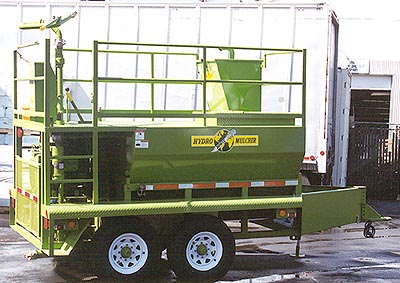 | | |
| --- | --- |
| Skid Model | Trailer Model |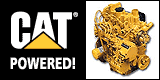 CAT® financing available on any Bowie equipment built with a CAT power plant!
Engine: CAT-3024 Diesel, 50HP, water cooled, complete with starter, generator & clutch.
Pump: Your choice of a Bowie 2300 Positive Displacement Gear Pump or a 2"x3" Deming Centrifugal pump.
Drive: Gates® Industrial Belt and Diamond® Chain throughout.
Equipment: All controls located on top rear of unit, (Duplicate set of controls for operating from ground level). Temperature gauge and generator light, Horn signaling device, Flarestat signal lights, Non-skid floor plate, Safety guard rails around tank.
Discharge Gun: 2" all pipe with quick coupling for easy removal and swivel for smooth control of gun, Full 360 degree rotation and 160 degree up and down movement and 4 Nozzles for close, medium and long distance spraying.
Tank: 3/16" Steel plate tank, catalyzed epoxy resin coating on inside of tank, agitator and shredder bar to prevent rusting and corrosion. Large opening in top for easy cleaning and maintenance, Enclosed shredder bar for shredding full bales of wood cellulose fiber, 2 Agitators to keep slurry homogenous, All shafts supported by self-aligning ball bearings and adjustable lubricated packing on inside of tank, 2" NPT fill pipe.
Length: Skid 11'-11", Bumper Pull 17'-10", Gooseneck 20'-3"
Width: 7'-4"
Height: 8'-8"
Weight: Empty: 5,470 lbs - Loaded weight, 10,935 lbs. (approx.).
Capacity: 950 gallon tank
Frame: Mounted on tandem axles with 750x16 tires, Electric brakes, Running lights, Adjustable front dolly and Adjustable height ball type trailer hitch. Optional – Pintle hitch, Gooseneck pull or Skid mount.
Bowie Offers More!
More features than a Finn!
More power than a Finn!
More options than a Finn!
More economy than a Finn!
Options for Bowie Victor Series
3 pump options available, Gear, Centrifugal or Moyno. Manual or electric rewind hose reels, rigid or HD premium lay flat hose, Swivel mounts and remote rewinds for hose reel, Freshwater flush tank system, Custom railing and deck configurations, or Special color paint, Bowie can build a machine to fit your need.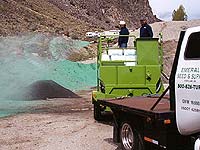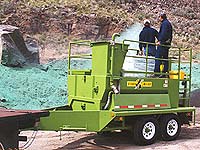 Emerald Team demo of Bowie 950 Hydro Mulcher
using turret with fan nozzle for erosion control.
NOTE: All units priced F.O.B. factory or current location. Freight not included.
Click here to view the Bowie Warranty.
Bowie Hydro-Mulchers® Click a model below for more details.
| | |
| --- | --- |
| | CAT® financing available on any Bowie equipment built with a CAT power plant! |
Equipment Inquiry
Looking to buy a new hydro-seeder or straw mulcher? Have questions about our used equipment inventory? Fill out our electronic inquiry form or call us at 1-800-826-8873!


* All payments listed are 60-month term with $1.00 buyout option at lease end.
Leases and Equipment Finance Agreements are available.
Take it to the max!
Hydro-seeders and Hydro Mulchers are extremely versatile. We encourage owners of these specialized machines to take full advantage of all they're capable of performing!
seeding
topdress mulching
hydro fertilizing
fire control
equipment washing
watering trees/new plantings

street washing
de-icing
water truck services
anything a water truck can do these can do better !
Find out how you can own and take full advantage of one of the hardest working, most efficient machines in the world! Call Emerald Equipment - Home of the Hydro'Pros!