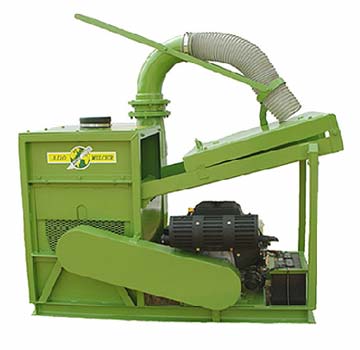 Bowie MG30 Small Aero-Mulcher
The new MG-30 is the most powerful Tailgate straw mulcher in the world!
What makes it the most powerful is the 25hp Robin Subaru Engine. When other brands of straw mulchers offer 18hp, Bowie offers more power, thus more performance ! Plus the 12 Volt electric starter, full pressure lubrication with oil cooler and a large dual element air cleaner for the toughest conditions.

Our turret spins freely on ball bearings with grease fittings for easy maintenance. This machine comes standard with a vacuum port for those fall cleanup jobs. The MG30 is designed forklift ready for easy loading.
Own the most powerful tailgate straw mulcher in the world -
the new Bowie MG-30 Tailgater Straw Mulcher !
"Own Your Own!"
One day rental can pay for one month's lease on a new straw mulcher!
$ Don't throw your money away on rent, invest it ! $
Specifications - MG30 Skid
Capacity (Straw/Hay):
5 tons/hour

Skid
Robin 25 hp. Air Cooled Engine
Ball bearing turret
Discharge and Vacuum

Range (ft. still air):
40+ ft.
Length:
62" Tray Folded
88" Tray Open
Width:
40"
Height:
70"
Weight:
760 lbs
| | |
| --- | --- |
| | 'Built Strong…Built to Last' construction of the turret with the enclosed ball bearings. This turret is manufactured to give years of trouble free operation along with ease of use. |
| | |
| --- | --- |
| The beater chamber is large enough to break the bales of straw in an extremely short time. The beater chamber parts are hardened to give extra long life to your 'Built Strong...Built to Last' equipment. | |
Bowie Aero-Mulchers® Click a model below for more details.
Equipment Inquiry
Looking to buy a new hydro-seeder or straw mulcher? Have questions about our used equipment inventory? Fill out our electronic inquiry form or call us at 1-800-826-8873!


* All payments listed are 60-month term with $1.00 buyout option at lease end.
Leases and Equipment Finance Agreements are available.
NOTE: All units priced F.O.B. factory or current location. Freight not included.