Bowie LDB-90 Aero-Mulcher Straw Mulchers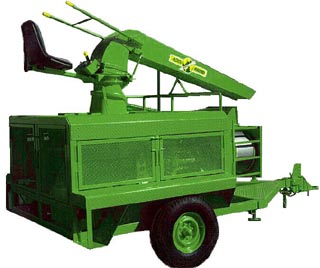 This is it! The machine to use for covering large or smaller areas with hay/straw. Nothing covers the job like a Bowie Aero-Mulcher. The built rugged -- built to last attitude is shown throughout the Bowie Aero-Mulcher. Rough job conditions or difficult materials? No problem. The job can be accomplished better and quicker with Bowie equipment. The 125 hp 4045T John Deere engine is a stand out in performance and reliability on this Bowie Aero-Mulcher.
The Bowie Aero-Mulcher makes you money job after job, year after year with it's proven dependability. Dare to compare and your choice of the Bowie Aero-Mulcher will prove to be the right one!
LDB-90 Aero-Mulcher

125 HP John Deere 4045T engine. Highest horsepower of any straw mulcher in the USA!
Up to 90 Ft. distance
Up to 20 ton/hour
11 Cu. Ft. Beater Chamber
30" Diameter, Six Blade Dynamically Balanced and Tuned Fan
Heavy Duty Frame
Automatic Feed
Rotating screen in front of radiator prevents straw build-up and engine overheating
Ground Clearance 11.5 inches

Watch an LDB-90 Aero-Mulcher in action!
Click the 4 Play button to start the video.
Powered by John Deere 4045T
125 HP Diesel Engine
Click a photo below to enlarge:
Bowie Aero-Mulchers® Click a model below for more details.


* All payments listed are 60-month term with $1.00 buyout option at lease end.
Leases and Equipment Finance Agreements are available.
Equipment Inquiry
Looking to buy a new hydro-seeder or straw mulcher? Have questions about our used equipment inventory? Fill out our electronic inquiry form or call us at 1-800-826-8873!