3400 Gallon
Working Capacity!
Bowie 3400 Hydro-Mulcher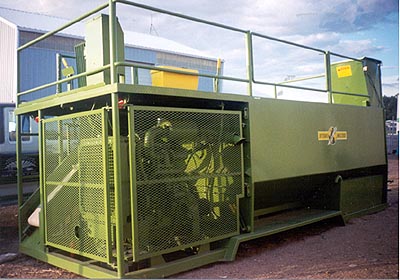 Powered by a
CAT 127 HP Turbo Diesel Engine!

CAT® financing available on any Bowie equipment built with a CAT power plant!
Engine: CAT 127 HP Turbo Diesel complete w/starter, generator & main drive clutch, and auxiliary fuel tank for all day operation
Pump: 4" x 3" MCM 13" centrifugal pump, independently operated by its own air clutch.
Drive: Gates® Industrial Belt and Diamond® Chain throughout.
Tower: All controls located on top rear of unit, Temperature gauge, oil and generator light, Horn signaling device, Flare stat signal lights, Non-skid floor plate and Safety guard rails around tank.
Discharge Gun: 3" all pipe with quick coupling for easy removal, Chiksan swivel for smooth control of gun, Full 360 degree rotation and 160 degree up and down movement and 4 Nozzles for close, medium and long distance spraying.
Tank: 3/16" gallon steel plate tank, catalyzed epoxy resin coating on inside of tank, agitator and shredder bar to prevent rusting and corrosion, Gate valve inside of tank to hold slurry away from pump, Large opening in top for easy cleaning and maintenance, Enclosed shredder bar for shredding full bales of wood cellulose fiber, 3 agitators to keep slurry homogenous, All shafts supported by self-aligning ball bearings and adjustable lubricated packing on inside of tank, Chain and belt drive throughout and 2" water fill pipe with quick coupling.
Capacity: 3400 gallon tank
Weight Empty: 8,820 lbs., Loaded weight, 34,800 lbs. (approx.), 3400 gallon tank, Length: 19'-5 1/2", Width: 8'-2", Height: 8'-6 1/2".
Bowie Offers More!
More features than a Finn!
More power than a Finn!
More options than a Finn!
More economy than a Finn!

Click here to learn more about the Bowie 3400 Hydro Mulcher.
ess_bowie3400.pdf | 428k Acrobat® PDF
Options for Bowie 3400 Series
Moyno Pump 6"
Set-up for future install of Moyno
Dual Towers
Variable Speed Reverse Agitation
Fresh Water Flush System
Ground Control
5' Cab-over Platform Extension

Electric Hose Reel
Manual Hose Reel
Loading Elevator
Expanded Metal in Guard Rails
Hinged Opening in Guard Rails
Fender Wells for frame mounting
Spare Tire
NOTE: All units priced F.O.B. factory or current location. Freight not included.
Click here to view the Bowie Warranty.
Bowie Hydro-Mulchers® Click a model below for more details.
| | |
| --- | --- |
| | CAT® financing available on any Bowie equipment built with a CAT power plant! |
Equipment Inquiry
Looking to buy a new hydro-seeder or straw mulcher? Have questions about our used equipment inventory? Fill out our electronic inquiry form or call us at 1-800-826-8873!


* All payments listed are 60-month term with $1.00 buyout option at lease end.
Leases and Equipment Finance Agreements are available.
BUILD A MEGA-MULCHER©!!
Order your new Bowie Hydro Mulcher with all the options!
Or build up your Bowie and take it to the max!
If you already own a Bowie Hydro Mulcher you can build-it-up with new parts and accessories from Emerald. Build-up your Bowie and join the many Bowie Hydro Mulcher owners classified as "Mega-Mulchers" - with the most productive and competitive hydro mulchers in the USA!!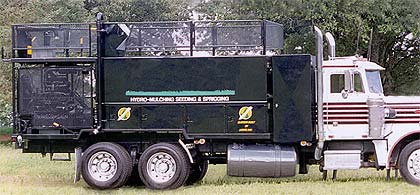 Bowie Imperial 3400 "Mega-Mulcher"©
- owned by a hydroseeding company in Texas. It has a 6 cylinder Turbo Diesel engine and two pumps! The additional Moyno pump is capable of pumping thick slurries through 1,500+ feet of hose uphill!
Blow the competition away, build a Bowie MEGA-MULCHER©!
Bowie options typically used to build a MEGA-MULCHER:
Moyno Pump
Centrifugal Pump upgrades
Gear Pump upgrades in size & quality
Flush Tank
Loading Elevator

And Much More...

Cab-over Platform Extension
Variable Speed Reversible Agitation
Gooseneck or Bumper Pull Trailer
Electric or Hydraulic Rewind Hose Reel
Please contact Emerald for pricing Mega-Mulcher options, parts and accessories.
BOWIE HYDRO MULCHERS® - the most productive and competitive hydro mulchers in the USA and the World!
Take it to the max!
Hydro-seeders and Hydro Mulchers are extremely versatile. We encourage owners of these specialized machines to take full advantage of all they're capable of performing!
seeding
topdress mulching
hydro fertilizing
fire control
equipment washing
watering trees/new plantings

street washing
de-icing
water truck services
anything a water truck can do these can do better !
Find out how you can own and take full advantage of one of the hardest working, most efficient machines in the world! Call Emerald Equipment - Home of the Hydro'Pros!