Kincaid 1200 Pro Seeder-Mulchers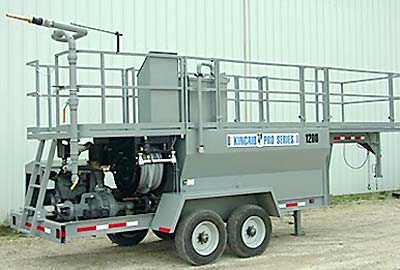 | | |
| --- | --- |
| Skid Model | Trailer Model |
KINCAID Pro-Series 1200 Vortex Diesel Seeder-Mulchers are designed from the ground up to become the new standard for mid-sized, diesel hydromulchers. No other machine combines the power, pump, or plumbing of the Kincaid Pro Series. With a 98 hp Kubota diesel engine, a 200 gpm vortex centrifugal pump, and the straightest, shortest plumbing in the business, the Kincaid Pro Series delivers what contractors have been requesting - a powerful machine with simple plumbing that won't clog or overheat when put to the test!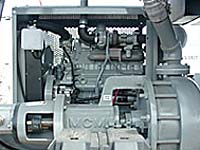 The 98 HP Kubota diesel engine provides power to propel mulch slurry through 300 feet of discharge hose or the turret (cannon).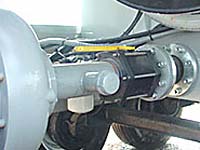 Our positive displacement, double rotary gear pump requires less horsepower and provides years of clog-free operations.
Shielded, triple sealed bearings, a water resistant grease barrier and high power transfer belts make the Kincaid Pro-Series 1200 a true commercial seeder-mulcher. There are no chains or sprockets. The mixing tank is fabricated from 12 gauge steel. Both the tank interior and the agitator shaft are protected by a 5 mil corrosion resistant baked-on epoxy coating. Get the Kincaid advantage with these features and more in the Pro-Series 1200!
Kincaid Pro 1200 Features

Fully variable hydraulic agitation
Fully variable hydraulic pump control
98 hp Kubota diesel
Vortex 200 gpm @ 120 psi centrifugal pump
78 gallon hydraulic reservoir
Direct inlet plumbing from tank sump; no 90-degree turns
3" tower discharge gun
Maximum agitation and pump rpms @ 2300 engine rpms
Full deck railing with adjustable 42" back railing
14" or 22" ground clearance
1150 gallon working capacity
DOT brakes and lights

Kincaid Pro 1200 Performance

Mix and spray thick FGMs and BFMs without plumbing/plugging concerns

Engine capable of supporting both hydraulic pump and agitation control

Greatest tower throughput of any 1200 gallon machine; maximum efficiency

Incorporates a pump capable of passing sprigs, air, or solids without cavitating

Kincaid Pro 1200 Options

100 Gallon Freshwater Flush Tank
Electric Hose Reel
Hydraulic Hose Reel
Pintle or Ball Hitch or Gooseneck Trailer with Full Deck
PRO 1200 SPECIFICATIONS
Power
Kubota 98 HP Turbo Charged Diesel Vibration Isolation Mounting
Fuel Tank
30 gal.
Tank Capacity
1200 gal./1100 Gal. Working
Discharge Pump
Hydraulic Drive Vortex Pump Variable Speed with 4" Inlet and 3" Outlet
Discharge Cannon
3" Pipe and Full Flow Ball Valves
Discharge Distance
Up to 200 feet
Agitation
Variable Speed Hydraulic Driven Mechanical Agitation
Nozzles
Set of Two, Long Distance and Fan Spray
Frame
16.4 " with STD Axles, Tires and Wheels
Ground Clearance
21.75" with High Clearance Axles, Standard Tires and Wheels
Weights: (weights are approximate and do not include options)
Bumper Pull Trailer


Gooseneck Trailer
(Includes 6'8" x 8' Front Storage Deck)

9000 lb. Empty
18200 lb. Loaded

9450 lb. Empty
18650 lb. Loaded
Dimensions: (STD Axles, Tires & Wheels)
Bumper Pull
Gooseneck
8'W x 20'6"L x 10'7"H
8'W x 24'8"L x 10'7"H
4" Air Gap Hydrant Fill Standard
Options
Electric or Hydraulic Powered Hose Reel
Flush Tank
Land Fill Versions
High Clearance Axles
High Flotation Tires (not highway rated - max 25 MPH speed)
Standard Equipment

Hydraulic, Reversible Agitation
Positive Displacement Pump
Below-deck controls
More mulch per load than leading competitor
Will pump thick slurries through 400 ft.+ of hose
Bypass Recirculation Pressure Valve (not engine throttle) allows maximum nozzle control.

Main Tank Ball Valve (not a screw or gate valve)
Separate hydraulic agitation controls for speed and direction
More Deck Storage (Pro Series models only)
Direct Pond Filling capability
Click here to view the Kincaid Warranty
.
Authorized KINCAID dealer:
Emerald Equipment
Division of Emerald Seed & Supply
(541) 504-0307
info@emeraldseedandsupply.com
Equipment Inquiry
Looking to buy a new hydro-seeder or straw mulcher? Have questions about our used equipment inventory? Fill out our electronic inquiry form or call us at (541) 504-0307


* All payments listed are 60-month term with $1.00 buyout option at lease end.
Leases and Equipment Finance Agreements are available.
Kincaid equipment is made in USA with USA steel.
Support USA manufacturing and USA products – buy Kincaid!
Take it to the max!
Hydro-seeders and Hydro Mulchers are extremely versatile. We encourage owners of these specialized machines to take full advantage of all they're capable of performing!
seeding
topdress mulching
hydro fertilizing
fire control
equipment washing
watering trees/new plantings

street washing
de-icing
water truck services
anything a water truck can do these can do better !
Find out how you can own and take full advantage of one of the hardest working, most efficient machines in the world! Call Emerald Equipment - Home of the Hydro'Pros!