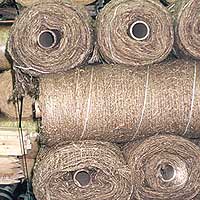 Jute Netting
Jute Netting is supplied in a 4 ft. x 225 ft. roll.
[ 900 sq. ft. or 100 sq. yards per roll ]
Fully biodegradable in 2 to 3 years depending on soil and weather conditions. Water absorption of 4 to 5 times fabric weight. Open area 60 to 65%.
Roll weight approximately 70 lbs. FOB Portland, Oregon. Roll is too large to ship UPS.
Emerald cannot offer economical shipping of small quantities of erosion control products to destinations outside of the Portland region.
Supplying the Portland area with Erosion Control Products
Supplying Jute Netting to the Portland area only. Because of today's freight costs, Emerald supplies single or pallet quantities of erosion control products to the Portland region only. Thank you. We stock only minimum quantities at our store. Most erosion products or quantity orders are obtained by special order only. Emerald is not affiliated with any other store.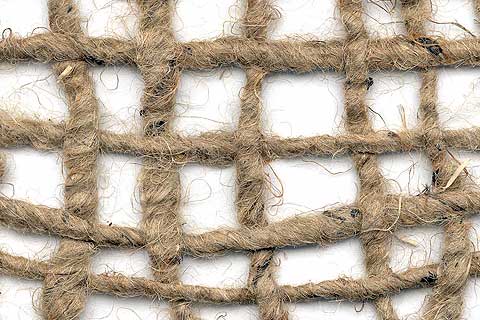 Installation*
Prepare soil free of large clods and stones, do not over compact.
Seed and fertilizer should be applied before installing jute netting.
On slopes, secure jute at top by laying at least 6" of material below grade at least 6 " deep and secure with staples spacing staples every 18" to 24". The steeper the slope, the closer the staples should be placed. Apply jute netting by unrolling it down the slope and terminate at level area Fold 6 " of netting under itself and secure with staples or live stakes. Overlap all seams at least 2" to 6 ".
* Verify local municipal agencies and contracting requirements for specific application guidelines.
---