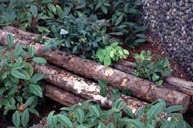 ELWd® Logs
ELWd® (pronounced "elwood") structures are engineered alternatives to native large woody debris for creation, rehabilitation or enhancement of aquatic and upland habitat.
ELWd® structures are assembled on-site from small diameter poles or logs to make large diameter organic structures that satisfy the functional requirements of native large woody debris.
Sufficient quantities of native large woody debris are becoming rare and increasingly expensive to acquire. Native large woody debris often weigh 3,000 to 10,000 pounds, necessitating use of large cranes and heavy equipment to install habitat features.
ELWd® structures are fabricated from readily available small-diameter thinnings, merchandiser scrap or tops left over from harvest. Individual poles for ELWd® structures weigh 80 to 300 pounds depending on structure length. A small work crew can pack into a site all materials and tools necessary to assemble and install ELWd® structures.
ELWd® from the ELWdSM division of of Forest Concepts, LLC. and local distributors provides an economical and functionally viable alternative for hydrologists and habitat specialists faced with difficult sites and limited availability of native large woody debris.
It is possible to manufacture ELWd® structural components in the field with portable power and hand tools. However, we recommend that structural components be regionally manufactured and delivered to project sites as kits.
ELWd Documentation
Open or Save these .pdf files documenting case histories, dimensions and drawings for ELWd Habitat Enhancement and Watershed Restoration Products.
Magnusson Wetland Restoration
Demonstrates the benefits of adding woody habitat features to restored wetlands.114k.
Wildlife Habitat Structures restore habitat in burned-over areas, jump-starting populations of prey species. 397k.
Field manufacture of ELWd Wildlife Habitat Logs from fireline debris in Wenatchee National Forest.1.29M.
Engineered Large Woody Debris Structures- Standard products and specifications for upland wildlife habitat structures, dimensions, drawings.50k.
Click here to download the free Acrobat® Reader software.
ELWd Project Gallery
For more information visit the ELWd Systems Web Site.
---