hydro-seeder Contractor Series hydroseeding equipment
Kincaid has taken their Landscaper series of hydro-seeders and made improvements to create their new Contractor Series with new features for greater performance and ease of operation:
Steel gear pump NEW !
Vertical drop hatch with grate NEW!
Electric start engine NEW!
Watch an Agigator in action!
Call or
email Emerald
to request a free Agigator CD.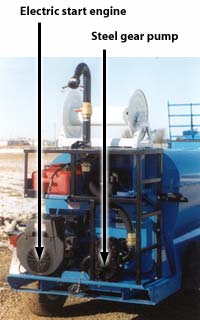 (Hose reels shown in photos are an optional accessory.)
NO CDL REQUIRED!
Any of these 3 units, loaded and towed with a one ton truck will not require a CDL!
US Dept of Transportation Federal Motor Carrier Safety Administration
Commercial Motor Vehicle Safety Act of 1986
Class A license is required when any combination of vehicles with a GVWR of 26,001 or more pounds provided the GVWR of the vehicle(s) being towed is in excess of 10,000
CONTRACTOR SERIESSpecifications
MODEL 550
MODEL 750
MODEL 900
Engine (electric start)
Honda 13 hp
Kohler 18 hp
Kohler 25 hp
Gearbox
Honda 13 hp 6:1
KEM 18 hp 6:1
KEM 25 hp 6:1
Pump
positive displacement, steel gears
Agitation
mechanical
Loading Area
vertical drop hatch with grate
Length
97" ( 8 feet )
150" ( 12.5 feet )
150" ( 12.5 feet )
Height
53"
96" to hand rail
96" to hand rail
Width
50"
51"
51"
Empty Weight
1200 lbs
2100 lbs
2800 lbs
Loaded Weight
4800 lbs
7800 lbs
9500 lbs
Avg. wood mulch load
200 lbs
300 lbs
400 lbs
Avg. paper mulch load
250 lbs
400 lbs
400 lbs


Skid Model


Trailer Model


Skid Model


Trailer Model


Skid Model


Trailer Model
KINCAID - Precision engineered for performance and economy!
Equipment Inquiry
Looking to buy a new hydro-seeder or straw mulcher? Have questions about our used equipment inventory? Fill out our electronic inquiry form or call us at 1-800-826-8873!


* All payments listed are 60-month term with $1.00 buyout option at lease end.
Leases and Equipment Finance Agreements are available.
Kincaid equipment is made in USA with USA steel.
Support USA manufacturing and USA products – buy Kincaid!
Take it to the max!
Hydro-seeders and Hydro Mulchers are extremely versatile. We encourage owners of these specialized machines to take full advantage of all they're capable of performing!
seeding
topdress mulching
hydro fertilizing
fire control
equipment washing
watering trees/new plantings

street washing
de-icing
water truck services
anything a water truck can do these can do better !
Find out how you can own and take full advantage of one of the hardest working, most efficient machines in the world! Call Emerald Equipment - Home of the Hydro'Pros!