Emerald EROSION CONTROL MIX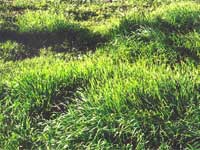 Emerald Erosion Control Mix is an economical and effective mix of grasses for stabilizing soils and controlling soil erosion. Quick to establish, it will form a rapid plant matrix that will survive a wide range of soil types and growing conditions. This mix does not contain clover.
Erosion Control Mix Components
50% Perennial Ryegrass
35% Annual Ryegrass
15% Creeping Red Fescue
Erosion Control Mix Benefits
Rapid Establishment
Increased Soil Surface Stability

Low Fertility Requirements
Improved Weed Suppression
Erosion Control Mix Uses
Embankments
Lose Maintenance Areas
Grass Characteristics
Perennial Ryegrass is a rapid germinating, quick establishing grass that provides quick cover and soil stability with a relatively low growth habit, and it tolerates wet soil conditions.
Creeping Red Fescue is a fine textured grass that tolerates full sun to moderate and heavy shade. It forms a dense and low-growing grass well suited for un-mown areas. It also performs well under low fertilizer and water regimens.
Annual Ryegrass is a traditional cover crop that is rapid germinating, quick establishing and serves as a temporary nurse grass.
Planting & Management
For best establishment - sow on bare soil, if on slope it is advantageous to cat-track vertically to create a terraced surface to help hold the seed on the slope face. Provide adequate moisture for germination or plant during your regions rainy growing seasons such as April through May & September through October.
Seeding Rates
For best erosion control coverage plant at least 5 lbs. Per 1,000 sq. ft. or 250 lbs. per acre.
Available in 50 lb. bags. Emerald Erosion Control Mix is a custom mix of Emerald Seed & Supply.
Excellent for use in hydroseeding erosion control in the Pacific Northwest.