---
HydroMaché™ Paper Mulch
100% paper hydroseeding mulch
HydroMaché Paper Mulch is a cellulose fiber hydroseeding mulch that is designed for jet and paddle agitation hydro-seeders. It is made of 100% post consumer recycled paper and is dyed that pleasing blue/green color. Use it straight in a jet agitation system. Contractors with mechanical agitation systems can mix it with wood fiber mulch or use it straight as well.
HydroMaché Paper Mulch is available in heavy white plastic 50 lb bags. Manufactured in the Pacific Northwest.
When you hydroseed,
use HydroMaché™ Paper Mulch!

Available at our Portland store.
---
Jet-Spray

The new pourable paper mulch. Loose-pack 40 lb. bag.

Available for shipping in truckload quantities.

Jet Spray is the superior paper mulch for jet agitation hydro-seeders.

Physical Properties
Moisture content - 12% ± 3
Water holding capacity - 850% min
Paper content - 78% ± 2
Wood fiber content - 20% ± 2
Application Rate
4 to 1 slope - 1500 lbs / acre
> 4 to 1 slope - 2000 lbs / acre
> 2 to 1 slope - 2500 lbs / acre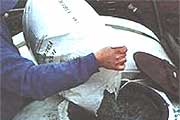 Directions for Use
Fill your jet-agitated hydraulic seeder to 1/2 full (min) of water. Add Jet-Spray, seed, soil amendments and fertilizer as the tank continues to fill.
Packaging
Jet-Spray is available in 40 lb heavy duty plastic bags, shipped 48 bags per 48 x 48 pallet (1920 lbs). Each pallet comes with a UV pallet cover and is stretch wrapped for ease of handling and storage. Our bag is produced from UV treated plastic and is ideal for outside storage.

Authorized Distributor
for the Pacific Northwest :
EMERALD SEED & SUPPLY
Jet-Spray shipped in truckload quantities.