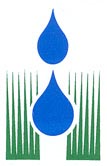 New Technology for Turf
Hydretain™ The Natural Root Zone Moisture Manager
( Not a wetting agent, not a superabsorbent polymer, not a plant food ingredient )
SAVE WATER AND SAVE MONEY NATURALLY !!
Hydretain is a unique blend of liquid organic hydroscopic and humectant compounds formulated to efficiently manage soil moisture. When applied to the soil surface and watered in Hydretain can extend watering intervals, and provide benefits for healthy plant growth.
Benefits: Hydretain works so the required amount of moisture is available to plant roots at all times between irrigation schedules and rain occurrences, thus eliminating drought stress cycles and providing a constant moisture source. In addition, Hydretain allows nutrients to remain solubilized and beneficial microorganisms to remain active and allowing for adequate soil air space.
HYDRETAIN - a new patented technology for turf.
Hydretain's patented blend of hygroscopic and humectant components manage soil moisture, by attracting free water molecules from the air space within the soil matrix (Hygroscopic), and slowing the evaporative loss (Humectant) efficiently transferring these to plant roots. At night when soils cool, moisture laden air is drawn back into the soil air space. This moisture is attracted to the Hydretain particles and then made available to plant roots through osmosis.
NOW — DOUBLE EVEN TRIPLE THE DAYS BETWEEN REQUIRED WATERING !
Reduce watering frequency of turf areas, flower beds or containerized plants
Improve Seed Germination
Control or Eliminate Dry Spots
Protect Non-Irrigated Areas
SAVE WATER AND SAVE MONEY WITH HYDRETAIN !
Available in gallon jugs or convenient hose-end spray bottles.